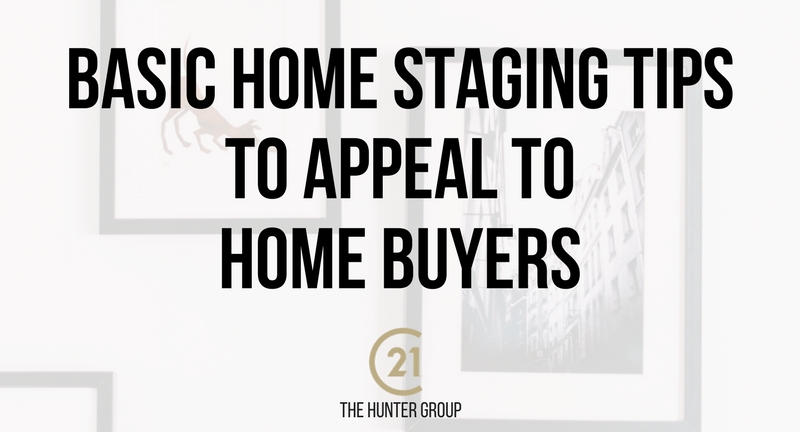 The good news is you're ready to sell your home! However, you may be feeling a little anxious about staging your home so it's attractive to home buyers without breaking the bank.
So, what's the secret to successfully staging (and ultimately selling!) your home? Believe it or not, the secret is really not so secret! The most important thing to remember with home staging comes down to a simple principle: Your home is your "castle," but only when you're living there; one person's 'cozy' is another's 'cluttered.'
With that principle in mind, let's take a look at some basic home staging tips that will appeal to home buyers:
Remove the clutter.
An obvious turn-off to potential buyers is clutter, so it's best to just get rid of it. Moving is a great opportunity to take a good hard look at what to keep and what to toss. If you really must keep it all, consider boxing it up and placing it in temporary storage. Because many buyers will probably open drawers, cabinets, closets and the garage, there is nowhere to hide it completely.
Furniture Placement.
Open up space in your rooms and makes them look larger by placing furniture efficiently. For example, you might try moving furniture away from walls to 'add space' to a room. You may also consider relocating various pieces around the house, such as putting an armchair in the master bedroom, to create a sense of balance in each room.
Lighting.
Many homes, especially older ones, have improperly - not to mention inconveniently - placed lighting. Not to worry though if your budget does not allow for the installation of brand-new fixtures or modern recessed lighting. You can strategically use your existing lighting fixtures in ways that will best enhance the best aspects of your home. Easy fixes include increasing the wattage in existing fixtures and properly mixing ambient, task, and accent lighting.
Neutral Colors.
Remember, 'neutral' doesn't have to mean white or 'cream'. Pleasing hues extend into soft browns and tans, grays, and even pastel-like blue-greens. Consider painting small adjacent areas (such as the entryway and the living room, or a galley kitchen with a connected dining area) in a single color to make them appear more continuous and larger. Accenting interior walls with a darker shade makes a room look deeper and draws attention to a room's more striking features like a fireplace or an integrated bookcase.
Creative Art.
Face it, most of us aren't interior decorators. We tend to place wall hangings and art at constant eye-level and encircle our rooms with them. Boring. Place art creatively with spacing and placement that will make it stand out, not blend in.<
Freshen up.
Spring is the busiest time of year for selling (and buying!), so take advantage of the flowering trees and bushes by cutting fresh branches and placing them in vases around the house. They look pretty, save money, and add color and aroma. A natural setting is almost always appealing.
Serenity Sells.
Certain spaces within a home, such as the bedrooms, dens, and studies are designed to invoke an atmosphere of serenity. Enhance the aura of tranquility in these rooms by making sure the beds look tidy and comfortable, with fresh (or at least clean) comforters and spreads. Window treatments are also beneficial for bedrooms, whether buyers are thinking about using light/sound-blocking shades at night or opening them up to brighten up the room each morning.
Keeping Up With Repairs.
We all have flaws in our home which might seem insignificant to us, but may loom large in a buyer's mind. Take time to make sure all cosmetic repairs are identified and completed and be sure leave little-to-no trace of them when it's time for walk-throughs. Such impressions could loom large when a buyer makes an offer or compares your home to another.
Clean and polished.
Tile, sinks, floors, and all other surfaces (even within cabinets and drawers) in the kitchen and bathrooms must look immaculate. Accessorizing in bathrooms creates appeal. You may also wish to burn scented candles, add accent towels and organize linens for maximum effect.
Here are a few other home staging ideas to consider:
Place accessories on tables in groups of three. Arrange them in shapes rather than lining them up. Mix colors and textures to add a matching, yet random, feel to the room.

Clean and deodorize the fireplace, then place candles in attractive holders there.

Keep your home's exterior as tidy and uncluttered as the interior. Arrange porch and patio furniture to create a relaxed, welcoming feel.

Minimize the appearance of personal items and remove family photos.

Although you might think your pets create an appealing picture for a home, others may not. Make sure you remove all unpleasant traces (especially smells) that indicate you have pets in the home.
Think of the process of staging your home for sale as being similar to setting up a stage for a play. Create the scene, set your marks, and...action! It's time to shine!
Related resource: HGTV.com 15 Secrets of Home Staging